Messages for July 1998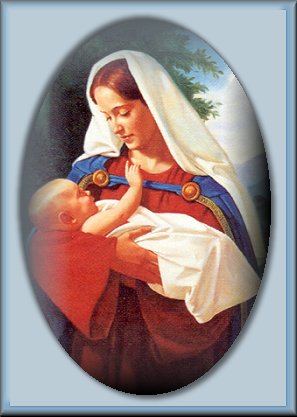 July 13, 1998
Feast of the Rosa Mystica
(The tape recorder was acting up)Öfor remembering my precious sons, my priests, oh they need you so my children for I see them being scattered, scattered in all directions. Pray also for my faithful ones who are in such great danger, receive them my precious children. Receive my little priest sons who are not welcome in my churches by those my little priest sons, who have lost their faith and are not awareÖ(The tape recorder stopped recording for awhile)
My precious children I look to you these days for there is great work to be done. Love each other my children, quarrel not among yourselves, treat each other with patient love. Look into your hearts, remember my Sonís teaching, "love one another as I have loved you."
You have great work ahead of you my children, please work together that you my be with me for the Triumph of the Holy Cross of my Son. Continue in your endeavors and you will be blessed, as you bless your brothers and your sisters with your help, you will be blessed by my Son. In the same way my children as you give of your first fruits to my church, my Son will abundantly bless you. For my church needs rebuilding, not only with material goods but with spiritual goods as well, your first fruits lie in not only in your material giving but in spiritual giving as well, pray for my church for I am the Mother of that church. Pray fervently my children, for it is in ruins.
Precious children the dark clouds are upon you, but each one of you bears a light that you have been given as my children of the light receive spiritual wisdom.
Remember to always praise the King of Kings and the Lord of Lords my Son Jesus for remember that at the mention of his name all knees must bend, as in the administration of my Sonís Body and Blood when it is given to you my children. Remember you are the model, you are the example, that reverence for my Sonís Body and Blood must continue at any cost.
Thank you my precious children for responding to your Motherís call.
Note: Teresa said that Our Lady appeared as Our Lady of Rosa Mystica.
July 20, 1998
Blessed Virgin Mary: Praised and Blessed be the name of my son Jesus, I am your Mother the Morning Star, your Lady of Light. I have been praying with you this evening my children, and I have shown myself to my daughter, in the many, many ways that I have appeared to my children all over the world. I am the Mother of all, all creation, all humanity, and I love you my children.
I look down at you at this time and I see you kneeling before me, and it gives me great joy my children, to see that you pay homage to the Mother of Jesus. My children, show even more reverence to my son as you visit him in the blessed sacrament or before the tabernacle, or as you receive him to yourselves in holy communion. For my son loves you all my children, with such a burning love that consumes him, and as you show reverence in honor to my Son, he will touch you with that burning heart, that you will have the same burning love for him and for all your brothers and sisters. That peace may abound in you my children for that peace and love may go from you to others. To others who need my Son, and the peace and the love and the joy that only he can give through you.
Love my children, love in all you do. Precious children I know the world pulls you to anger, to materialism, anxieties of the world, anxieties of age, as your physical bodies become older, anxieties because you are not always the beautiful body and person that the world perceives to be. My children, my Son does not look on your physical beauty, he looks at the beauty within your heart, and your soul for you are all beautiful children to him, for the lover of your soul is consumed, consumed with love for you my children. Love him back, love him. As you continue to spread your love, the world will be a better place. My children, I give you my peace, I give you my love. I love you my children.
Thank you for having responded to this call.
Teresa: I would like to tell you how I saw our Blessed Mother tonight. Soon after the prayer meeting began, I saw her sitting, playing with the baby Jesus, moving about just as we do. So human and so beautiful with the baby Jesus. Then I saw her as one of the pictures that we have here Our Lady of Laceta, she was looking down at us, and smiling. Then I saw her as Our Lady of Guadeloupe, so vivid. All of these visions tonight have been so vivid, so vivid and so clear and beautiful, the colors of Our Lady of Guadeloupeís robe. The beautiful face.
Then Our Lady of Light, she came, filled with light. Then as we continued to pray I felt like someone was kneeling beside me, that was before Sam came over. Somebody was beside me, and it was our Blessed Mother praying with us. Kneeling there just like all of us. And I also saw our Blessed Mother, a black image, the baby Jesus was black and she was black, as our African American brothers and sisters see her. Then I saw her as our Japanese brothers and sister see her. So lifelike.
Then as Barbara was saying the Litany of the Blessed Virgin Mary, I could just see her, as just like she was a different, coming in just different ways, I could see one image after another, it was so beautiful. So peaceful.
As Sam was saying the Litany of the Saints, the Saints were coming up one, itís just like they were coming in and standing in line. They were in heaven. But they were being called and they were coming, some of them were already there. And one I saw really clear was one trying to go up the steps, it was Padre Pio. And the other Saints, I donít even know what they look like, but its just like they were all lining up.
And then as we were singing the song How Great Thou Art, our Blessed Mother joined us in singing the song. She came and started singing the song with us. It was so beautiful, I have never seen her so clear and so human, and so close. And as we sang the Hail Mary Gentle Woman, towards the end, she just came and as the message was being said she was, I could see her and you know as she was saying the message she was looking down at us and talking to us. Just looking around at everybody.
And she had a, when she gave the message, she had on a, like a white, this was dark [her head] and this was white [her brow] she had almost like a nunís habit on. And this up here was black [her head] and this was white. She was looking at all of us and giving the message tonight. But I felt such peace and love at the beginning of the prayer meeting.
<![if !supportEmptyParas]> <![endif]>